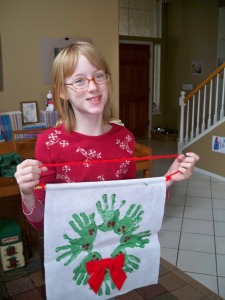 I'm having a bit of difficulty getting to writing this week. The temperature has dropped significantly here and that means our home follows suit. This is the point at which we begin our hibernation upstairs. We do everything, including our school, up in my room. If the kitchen and laundry were up there…that would be ideal. I'm sure my cousin, Christy, is laughing at me because she lives in Colorado and just laughs at my woosie-ness, but I just can't stand the cold! I'd take a hot day in Haiti over this any day! Thus said, I am attempting to either brave the cold or carve out a new part of my day to take The Driver's laptop upstairs after he's gotten home from work. How could this weather do this? I finally had a groove down for writing!
I wanted to share a few pictures with you about some things going on around our house that tell a bit of a story. I talk a lot about training your children. Well this year when we began to get our Christmas decorations down and some yard work needed to be done, I was able to see the fruit of all of the moments I've taken in the previous years to train my children instead of hurrying through the task and doing it myself. This year I did absolutely none of my Christmas decorating. My kids did it and they loved it! I was blessed to see how they view our home at Christmas by their placement of things and what they deemed important enough to get out. It was a fresh view through their eyes. I was so proud to see Mini-Me take the lead and show her younger siblings how things were to be done.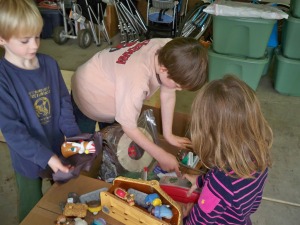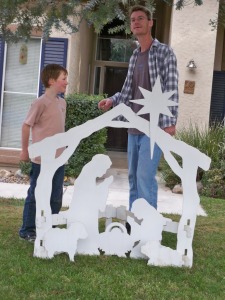 Helping The Driver put out the yard decorations and hanging the lights.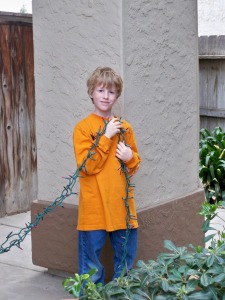 On the same day, a new bit of training was going on between father and sons. The Negotiator has been begging The Driver to show him how to mow the lawn. He has no idea what he's asking, but my husband was happy to show him! So he took the time train The Negotiator. He was going to train The Talker in the backyard, but it began to rain. So The Talker is next…
All this training going on and you'd think we've got the whole training under our belt, but here's an excerpt from an e-mail I exchanged with The Driver a few weeks ago. We still have to remember the training concept ourselves.
"I was outside today, sweeping the front porch and noticed how we've got quite a bit of weeds out there. I thought to myself, "We want a yard for our children to play in, but we're just not yard kind of people." Then I thought, "And I wish we lived on a farm and could raise our own food. Right." Then it occurred to me, how can we be more of an outside family and take care of the yard we want for our children? How do the farmers get it done? They get it done by training their children in the work. Why don't we work a bit more at getting the kids outside to help us in the yard and not just roam freely to play. I personally feel like I get stuck in the house to get house stuff done and don't get to help out there. So why don't we try to make 1 hour each weekend is for our family to work in the yard and 1 hour is for inside clean up. I'm not saying it all has to be done on Saturday—just the weekend. I'm trying to think of a way to make it manageable. 1 hour for outside training in work and 1 hour for inside training of work. Is that too much to ask?"
Of course, this realization is what prompted The Driver to work with the boys. They certainly won't learn the skill on their first attempt and the weather hasn't been cooperating with us, but if we push forward slow but steady, by next summer the job of mowing may be in the hands of the next generation.