Here I am, sitting down to write. We'll see how long this lasts. Life is always full here in our home, but the past few years, especially this last one have really made it feel a bit more like a full that is busting at the seams. Sometimes in a good way, sometimes not so much and then there's all the neutral, normal fullness in between. Little of it leaves time for me to write like I'd like.Somewhere in the midst of our boring, normal stuff–about late fall of 2013–we felt the Lord telling us, in a myriad of ways, that it was time for our boys to fly. As we considered this and looked at our options, we were really only looking ahead to fall of 2014. Yet, I do confess that homeschooling five children and driving another one to a specialized preschool was leaving me pretty exhausted. I secretly told the Lord that if there were immediate openings in the charter school that we were taking a tour of, I would gladly be willing to change things earlier than the plan. Little did I know that He was already ahead of me, but for reasons unbeknownst to anyone.Fast forward to January 1, 2014. We'd made the decision to place the boys into a local charter school starting after Christmas break and to move our oldest daughter to a homeschool charter closer to home at the same time. We had just stayed up late bringing in the New Year with friends and had plans to spend the remaining days of vacation working on getting things together like uniform clothes, new shoes, back packs, etc for the new part of our lives. Everything was changing, but it was still just mundane stuff until Daughter of Purpose began telling me that she was seeing double. And then there was the ringing in her ear a few days later. This made me remember the headaches she'd complained of a few weeks previous, but they went away. I thought nothing more of it–until now.
We brought DOP to see two doctors, but neither could make sense of her symptoms with their routine tests so an MRI was scheduled "just in case." It was the day of that MRI that our normal, full life shifted to the hard, full life. So full and hard that it's taken me until now, almost 10 months later, to find a way to record His glory in the midst of the hard. Lest we forget the hard that was already a part of our lives at this point. An autistic eloper being a part of that daily fullness.
When I woke up on January 9, 2014, I had absolutely no idea that this image was awaiting to change our lives–immediately.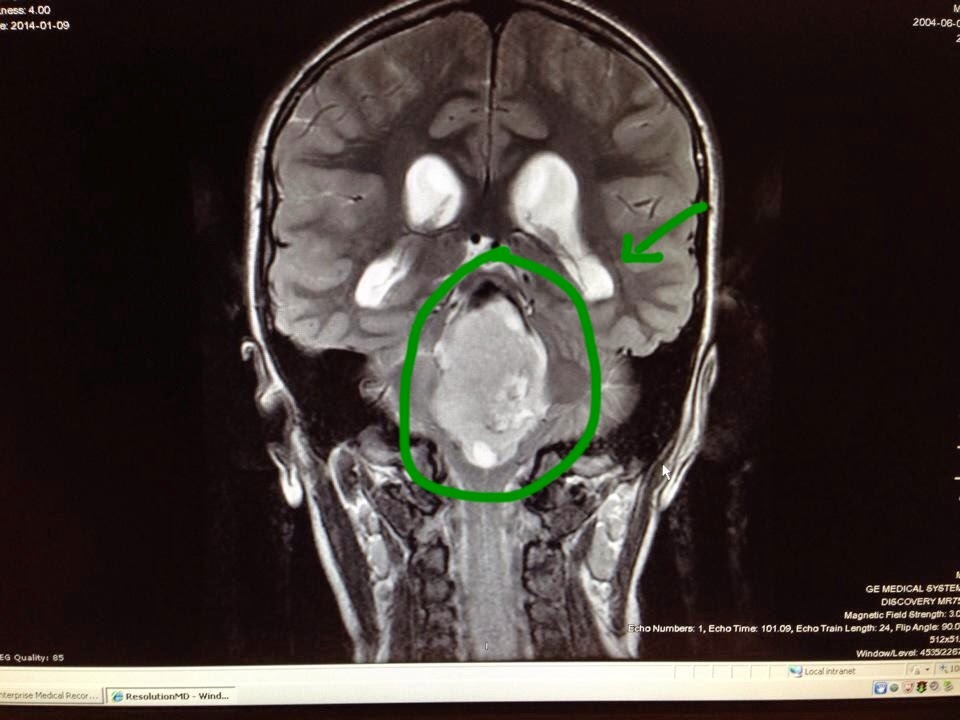 My man had taken DOP to the MRI because really, who needs both parents to be there for that? The technician was not going to tell us a darn thing anyway, right? We figured this was all "just in case" so it was fine for me to stay home with Little E and keep things going as usual. There was nothing usual about the text I was waiting for from my man telling me that they were done and on their way home. There was nothing normal about that text never coming. Instead, what came was a phone call waaaaaayyyyyy longer than anticipated. The phone call that sounded like my husband's voice, but I couldn't make sense of the words on the end of the line that said, "You need to come down to the hospital. DOP has been admitted to the hospital. She has a brain tumor the size of a kiwi."
We had asked our village of friends and family to pray for a routine MRI, never expecting that this would be the next F*acebook status update: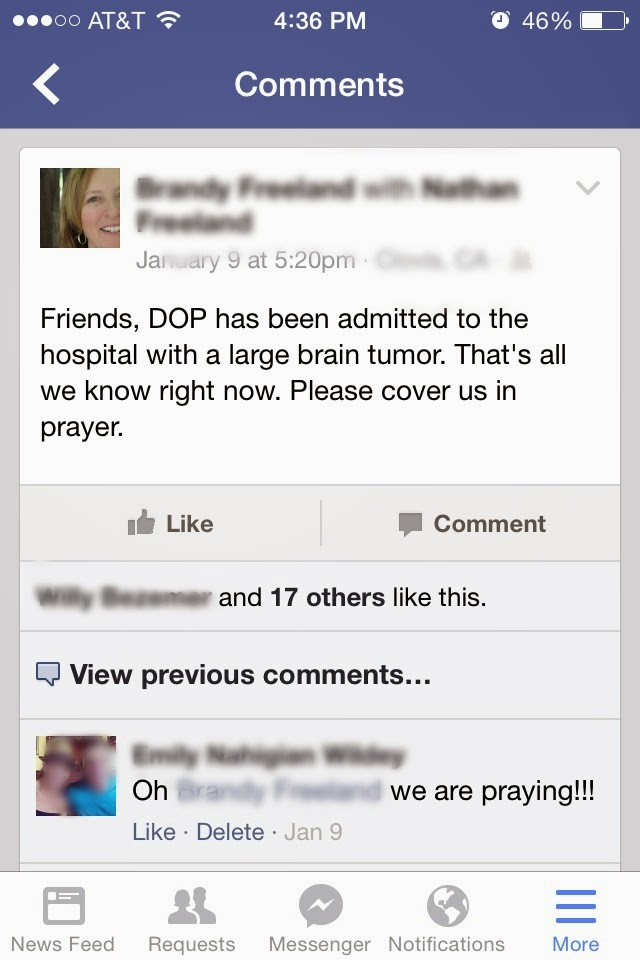 To be honest, I don't really want to re-hash the next few months of brain tumor discovery, removal and rehabilitation. Nothing about it was easy, but I saw Him there in every moment. My husband plunked himself down at the hospital with a computer for 30 days and 21 units of on-line school. I held down the home front and tried to pretend everything was normal when nothing really was. The boys had their first day of public school ever on the day of DOP's surgery. Our community rose up and helped along a road we had never planned on walking. I was too numb from it all to write it at the time. Yet, my husband who was on the front-line managed to record her story on his blog (look under January 2014) because someone needed to declare how God was there even in the midst of the hard. I was hard-pressed to know what the plan was for the next day. My poor friends would ask about how they could help me the next few days and I'd say, "I have no idea. I'll let you know once I've tucked Little E into bed tonight. Then I'll try to wrap my brain around tomorrow." Maybe this is crazy, but I learned a lot through that. A dear friend said, maybe we should consider that this is the way God would like us to live life–in the moment, not always planning the future and missing out on what He has for today. A lot of wisdom there, friends, but that is a post for another day.
Although I had no idea the reasons for why He was whispering the winds of change back in the fall, He did. No one wants to find out their daughter has a brain tumor, but it was the way He so clearly provided for our needs before we ever knew we needed them that allowed us to press in to the hard and trust that He had our backs even in the unexpected. If there is one thing I am confident of is this, He is here. He is on the unplanned roads walking alongside us and He wants us to tell others about it.