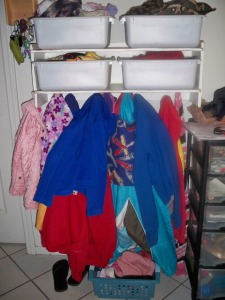 We have an area of our house that we call, "The Staging Area." It is the part of the house where we ready ourselves to go out the door. It's such a simple thing that my husband built years ago with some wood we had left around in the garage. We had the hooks lying around too. The only cost was the dish tubs I bought from the dollar store.
As you can see, each of our children has a tub and a hook. Each tub has their hats (winter or summer, depending on the season), gloves, scarves, sunglasses, and socks. On their hook, they hang bags and jackets. Obviously, during the summer this "staging area" is a bit more sparse than it is during the winter. When we added Daughter of Purpose to our family, we placed a basket on the floor for her that holds all the same things and added a hook on the side. It has ended up at just the right height for her.
Maybe it sounds weird to have thier socks here. Shouldn't they be upstairs in their dresser? Well, I went round and round about this one. I had to break out of what made logical sense to me versus what was practical in our home. The reality is that as soon as my children enter our home, they toss their shoes off into a basket that is near the staging area, which is near the entry/exit to our home. They are pretty much barefoot all the time. So imagine when I'd tell them it was time to get ready to go. They would then have to go all the way upstairs to get a pair of socks before they could ever put their shoes on. It just wasn't working so I decided that even though it was odd, I'd store their socks in the staging area.
Since then, I've also established a "sock drawer" in the bottom of our dryer in the laundry room (which is very near the "staging area" also). I got tired of the shoes being tossed the basket, but the socks being left all over the house. Now they know where to put their dirty socks so I don't have to chase them all over the house. I just dump those socks into the laundry every week instead of having to hunt them down first.
It's not foolproof, but by creating places or "homes" for the things my children need to get out of the house or by doing the same on the other end–when we get home–they are really pretty good about making sure their items get where they need to be. Organization makes a huge difference for us as all of us get out the door in a hurry! Imagine that…a world where things are where they are supposed to be! With seven people in our family, it can be a challenge to get out the door, but now we've got one problem solved by a simple organizational system.