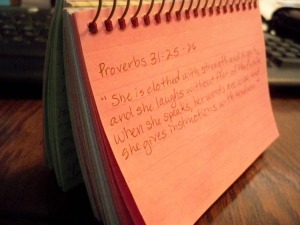 This is a repost because I need a piece of my own medicine right now. I think it's funny the way God uses my own writing to meet me where I'm at. Lately, as my mom puts it, I've felt like I have a target on my back. The very scripture that has been surfacing in my brain in response to that, is the one I referenced in my original writing, coming full circle–imagine that! So I'm digging out my weapon of choice that somehow has gotten buried. I'm dusting it off and adding in a few more verses that I need to permeate my soul. Then it got me thinking…maybe you could use this reminder too.
I wonder, do you have one of these in your home? It's the simplest thing, yet it one of the most valuable things I own. When the chips are down and I'm having a terrible, horrible, no good, very bad day and I'm thinking of moving to Australia…well, this is my weapon of choice to combat that bad day. I don't even know what it's called, but I know what it's full of. It's full of God's word. It's full of my handwritten verses of choice. Different seasons have led me to write down different things. Some encourage me, some focus me and some are what I'm specifically trying to memorize, but all have a purpose that means something to ME. If you happen to have one, I bet yours if completely different.
When the chips are down (and even when they are not) this spiral bound little book of 3×5 cards is my best friend. Yes, I could carry my Bible around with me, but what I love about my "little book" is that it has all of the verses I reference in my mind all in one place so I can find them quickly. When I want to find that verse about not being weary, I just a flip a few pages and I'm there. When I want to post a certain verse in my face to read throughout the day, I set it in the kitchen or in my bathroom so I am forced to read it over and over again. When I miss out on my quiet time, I grab my "little book" and carry it with me wherever I am and flip through each verse, helping me focus my mind on where it needs to be for that day. All of my favorite verses are at my fingertips. I don't have to flip through the whole Bible and remember exactly where that verse was from 2 years ago. It's right there in my "little book" waiting for me.
Finally, be strong in the Lord and in his mighty power. Put on the full armor of God so that you can take your stand against the devil's schemes. For our struggle is not against flesh and blood, but against the rulers, against the authorities, against the powers of this dark world and against the spiritual forces of evil in the heavenly realms. Therefore put on the full armor of God, so that when the day of evil comes, you may be able to stand your ground, and after you have done everything, to stand. Stand firm then, with the belt of truth buckled around your waist, with the breastplate of righteousness in place, and with your feet fitted with the readiness that comes from the gospel of peace. In addition to all this, take up the shield of faith, with which you can extinguish all the flaming arrows of the evil one. Take the helmet of salvation and the sword of the Spirit, which is the word of God.